Me, myself and Yumi.
Sunday, January 29, 2006


I'm bored and have nothing of merit to write, so I found out bout this 'Googlism' thingie from Farrah's website, you type in your name and they tell you what google thinks of you hahah. Here's an extract of what they say bout me.

www.googlism.com

yumi is in your car
yumi is maintained and it is shot properly it will serve you well
yumi is a very good artist for her age
yumi is a young girl who's not too good with schoolwork
yumi is announced as the final member of the space knights
yumi is susceptible to extremes of climate and use
yumi is also difficult
yumi is chastised by natasha for not having fixed a communication pack
yumi is able to divert the beam from natasha
yumi is a short girl who looks no more than 15 years old
yumi is the heroine of the loophole saga
yumi is the type that guys like
yumi is truly a chip off the old block
yumi is absolutely huge and defined; best body parts are her calves and upper body; the video cd is better quality than vhs tape (hahahahahahhahahahahha)
yumi is a natural double recurve bow with the arrow nocked one third of the way from the bottom
yumi is the proud owner of a #1 barbie
yumi is well presented
yumi is rash and immature
yumi is having a designer's block right now
yumi is not just a pretty face
yumi is shocked
yumi is the person who has to prove to the others that she is worthy of the job even though she's quite clumsy
yumi is what miyu transforms into with the power of her jewels (hahah that's funny cos Kenji says I turn into bad Miyu when I drive!)
yumi is a human

Blar blar blar, goodnight folks!
yumilicious 5:49 am link to post 0 comments

Goodbye to
5:49 am



Cannibalism
Tuesday, January 10, 2006


My mum sent me this e-mail, she's wierd but this is wierder *urgh*

Cannibal goes on charm offensive
David Crossland, Berlin



A SELF-CONFESSED cannibal who killed and ate a man he met on the internet has said he deeply regrets his crime and would not have done it if his victim had not wanted to be eaten.
Armin Meiwes, 44, speaking in a Frankfurt prison in his first interview since he was jailed for 8 1/2 years in January 2004 for manslaughter, appeared calm and contrite. The prosecution has appealed against his conviction and he is due to go on trial again this week for murder.

"I understand and regret deeply what I did, but the victim wanted me to do it," insisted Meiwes, a former soldier and computer repair man. "Otherwise I would never have touched him."


Apparently unwilling to prejudice his own retrial, Meiwes declined to reveal whether he would carry out a similar act again. He said he would have preferred it if his victim, Bernd Jurgen Brandes, 43, a homosexual computer engineer, had killed himself.

But Gunter Stampf, a German film maker who conducted the interview, said Meiwes had admitted he still had fantasies about cannibalism and was struggling to contain them.


"He built up a fantasy world on the internet and then it suddenly became real," said Stampf, who has visited Meiwes in jail on several occasions. "He is fighting against those fantasies and wants therapy. He wants to start a normal life afterwards."


German police estimate there are 8,000-10,000 people in their country who fantasise about eating a person or being eaten and are attracted to websites devoted to the practice.


Meiwes took Brandes to the specially constructed killing room of his rambling timbered farmhouse in Rotenburg, in western Germany, in 2001 after Brandes posted a message in the chatroom of one such site.

He insists his victim consented to the gruesome chain of events that began with both men trying to eat Brandes's penis — first raw and then fried — and ended with Meiwes laying out the corpse on a butcher's bench and chopping it into pieces.


Meiwes, who recorded the deed on videotape, ate 44lb of his victim's remains in the following months, defrosting pieces portion by portion. He kept the skull in a freezer and buried other parts in his garden.



Even as he ate his way through Brandes, barbecuing some parts and following gourmet recipes for others, Meiwes continued to advertise for other victims. It was not until December 2002, after he was reported to the police by an Austrian student, that he was arrested.


"I am preparing intensively for my trial," said Meiwes, who has become a keen churchgoer and believes the spirit of the dead man lives on through him. "I have my files, which are copious, and I'm reading them. I have three good lawyers and I am calm, relaxed and very confident."


After his trial brought him worldwide attention, Meiwes rejected substantial offers from film companies and publishers, instead assigning the global rights to his story to Stampf's Hamburg-based company, Stampfwerk, for no charge on condition it gave a full and accurate account of his case. "I want to explain what made me do this and I want to warn other people," he told Stampf.



Meiwes, who works in the prison library, is writing a diary that will form part of his memoirs, due to be published this autumn. Stampf's company is also working on a documentary. He said the BBC and HBO, the American cable television channel, had expressed interest.


But Meiwes said he was unhappy about an American-made film - Butterfly, a Grimm Love Story - which he claims is so closely based on his case that it may prejudice his trial.


yumilicious 7:15 am link to post 0 comments

Goodbye to
7:15 am



2005 Sucked, But the End Was Cool.
My cutie-pie cousins, Natasha and Nadya, it's a damn shame you guys can't see their faces. Natasha is an intelligent kid, she can speak english, malay and chinese and she's only 8! This pic is just like them though, they can't sit still, just like energizer bunnies.


yumilicious 6:55 am link to post 0 comments

Goodbye to
6:55 am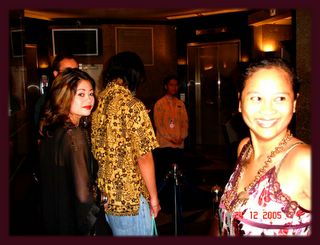 Poppy! My mum's friend, such a fun, bubbly lady and her boyfriend Roland has such a gruff Scandinavian voice. Great ppl, and i think she's laughin at everyone goin thru the metal detector, KL tower and their high security - they were suspicious of my eyelash curlers...


yumilicious 6:48 am link to post 0 comments

Goodbye to
6:48 am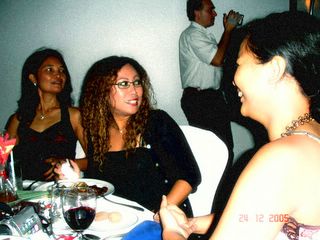 Man my mum's hot! Auntie Nora, mummy and Poppy are checkin out the Indian Santa hahahah...Indian Santa?!


yumilicious 6:40 am link to post 0 comments

Goodbye to
6:40 am




yumilicious 6:32 am link to post 0 comments

Goodbye to
6:32 am




yumilicious 6:32 am link to post 0 comments

Goodbye to
6:32 am




Christmas Eve '05, With Kenji, mummy, her husband Marc and friends. Btw, see the old dude with the santa hat on my left? He is the coolest man you will ever meet, what a life he's had, couldn't stop talkin to him for hours!


yumilicious 6:31 am link to post 0 comments

Goodbye to
6:31 am




Fiona having a moment and Nisha with the firecrackin' Silla close by, she'll bite! New Year's eve.


yumilicious 1:12 am link to post 0 comments

Goodbye to
1:12 am




Happy New Year! Nishasha and Yumpie.


yumilicious 1:07 am link to post 0 comments

Goodbye to
1:07 am




yumilicious 1:02 am link to post 0 comments

Goodbye to
1:02 am




yumilicious 12:37 am link to post 0 comments

Goodbye to
12:37 am



I Did Somethin' Outta the Ordinary
Saturday, January 07, 2006


Man, i did somethin ultra cool yesterday...I slept at 12pm and managed to sleep all the way til 4am!! I mean, ok its not cool, God knows it's not good for me but man oh man, i didn't know i was still capable of that. Oh Sleep, my old friend, its been a long time since we had a liaison like that, how i missed you.

Yeah ok, so apart from meetin up with my friend Sleep, i didn't achieve much today. Stayed at home, different underwear but stayed in the same clothes, chilled out with my hilarious father...I'll tell you a funny little story -

So i was on the phone with Nisha, somethin we were talkin about provoked me to ask my dad if i'm a good daughter, the inevitable answer came

Otosan (dad) : "No! you no good daughta!"
Me: AHAHAHAH its ok cos you love me anyway
Otosan : *mumble mumble*, i'm cooking, you want curry chicken or (some japanese rice thingy), you do washing up today, *mumble mumble* i want ice cream for desert (he LOVES food and cooking, our whole family does)
Me : uh-huh, uh-huh, can we eat the (japanese rice thingy)
Otosan : Cho! (Its this funny sound he makes) why u don't want curry?
Me : Otosan! The chicken curry's just baaad! Um, daddy i love you but erm...i'm on the phone right now.
Otosan : *picks up a napkin, rolls it into a hard yellow ball and throws it at me* ehehehehehehe *and he runs off*

Hahahahahahha, oh my dad is a classic! I love him and so does 98% of the ppl we meet, the other 2% have either

a) Had their windshield wipers pulled up by him
b) Been told off about the freshness and quality of their food by him
c) Had their cars purposely scratched or pushed (with hands only) around until the alarms go off by him (ok it's all of us, but when the old man doesn't do it himself, he insults the situation by giving his evil little "ehehehehehe" laugh afterwards)

Hey man, you try living and driving in Malaysia where you will wait patiently for 5-10 minutes for a parking space, put ur signal on and then some utter cunt steals it right infront of ur eyes!

Heheh, well those 2 things were the highlight of my 24hrs, Sleep and chilling at home with my father. He makes my world so much more fun and he's not all bad lah, he's got a heart of gold when it comes to helping people in need, poor thing has only recently learnt how to say no to ppl. Oh and if you're wondering, i did wash the dishes, he was happy and he sure as hell didn't forget about the ice-cream.
yumilicious 10:12 pm link to post 0 comments

Goodbye to
10:12 pm



Thai Light Balls Look Cool
Your Eyes Should Be Brown
Your eyes reflect: Depth and wisdom
What's hidden behind your eyes: A tender heart
Oh God, how did you know (about the brown)?? Hahahah...Ok i'll laugh by myself then :P
You Are Chinese Food
Exotic yet ordinary.
People think they've had enough of you, but they're back for more in an hour.

Oh thanks man, aren't these tests supposed to tell me i'm special and bla bla bla?




Ok, had enough of blogthings...Thanks Terri for putting it up on ur blog so little ol'me had the chance to try them heheheh

.


yumilicious 5:02 pm link to post 0 comments

Goodbye to
5:02 pm



Can I Get an uh-uh.
Wednesday, January 04, 2006


Music makes the world move baby, so here's some tracks I love




Six Underground - Sneaker Pimps

Lapdance (Paul oakenfold remix) - N.E.R.D

Buses and Trains - Bachelor Girl

Walk on By - Aretha

Round Here and Fast Love - George Micheal

It's Gonna Rain - Bonnie Pink (what a name)

Beauty on The Fire and Smoke - Natalie Imbruglia

Black Hole Sun - Sound Garden

Ain't No Sunshine When She's Gone - Al Green

Song for Whoever - Beautiful South ( i used to love this as a kid)

Sunny Came Home - Shawn Colvin

The Seed -The Roots and Cody Chestnutt

Light My Fire - The Doors (...aaah brings back memories of 6th grade)

Walkin' on the Sun - Smashmouth

Dock of the Bay - Otis Redding

Lithium and Teen Spirit - Nirvana

Kembali and Rose in the Wind - Anggun (amazing and underappreciated singer)

No Regrets - Robbie Williams

Give it Away - Red Hot Chilli Peppers

Take Five -Dave Brubeck Band

Who Will Save Your Soul and You Were Meant for Me - Jewel (loved the '90s)

Wind of Change and Walkin on the Edge - Scorpions (my first ever C.D, stupid me gave it away)

Girl from Ipanema - Astrud Gilberto

Sakura Drops - Utada Hikaru (beautiful lyrics)

Push Up - Freestylers

Like a Stone - Audioslave

Human Nature, Erotic, Take a Bow and the Power of Goodbye - Madonna (don't knock the Material Girl!)

Sweetest Taboo - Shola Ama (memories of 16 and introduction to the crazy world of clubbing)

Love Song and Amber - 311

Let Me Clear my Throat - DJ Kool

You're My Heart - Modern Talking (i know...cheesy, but I love it)



Hahahah, the list is all over the place man but yeah, check out some of the titles.

We're so lucky to have music, don't you just love it when a certain song gives you such an intense feeling? 'Like a Stone' does that to me, i used to listen to it whilst thinkin about my mum. The lyrics and Chris Cornell's haunting voice always sounded like a call, as if someone's beckoning me into a trance, and i used to sit in my lonely old room in a despair-filled stupor. Luckily things are alot more brighter and i don't have that reaction anymore, it just gives me goosebumps now.




It's raining now, perfect time for a coffee and cigarette...and I'm gone.


yumilicious 9:46 pm link to post 3 comments

Goodbye to
9:46 pm